Australia calls for UN access to Xinjiang amid fresh Uighur abuse claims
The Morrison government has called on China to allow the United Nations into the western province of Xinjiang to investigate allegations of human rights abuses against more than 1 million Uighur Muslim people believed to be held in mass detention facilities.

Foreign Minister Marise Payne made the call on Thursday after the BBC, Britain's public broadcaster, released a report with a series of accounts from former detainees and a guard who said they experienced or witnessed systematic rape and torture inside the facilities.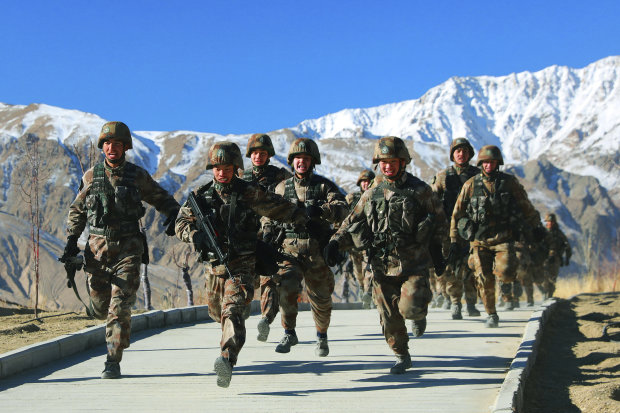 The allegations emerged as Scott Morrison and Joe Biden held their first phone conversation since Mr Biden was sworn into the US presidency, with "dealing with China" – in the words of the White House – one of the main topics.
Mr Morrison was confident there would be no weakening in America's position towards China under the new administration, although "obviously there are differences in how that's expressed and the nuances that are there".
"As he said to me again today, he sees the Australia-US relationship as providing the anchor for peace and security in our region," Mr Morrison said.
Advertisement
"In terms of our relations between Australia and the United States, there's nothing to fix there, only things to build on, and we intend to do just that. But I think in the United States, Australia has, and remains to have, a very, very strong and effective partner on these issues of Indo-Pacific security."

Mr Morrison reissued his invitation to Mr Biden to visit Australia for the 70th anniversary of the ANZUS alliance, and the President had a "keen enthusiasm" to travel here.

"He told me he needs no special reason to come to Australia; he loves the place," the PM said.

Mr Morrison – who is the ninth world leader to whom Mr Biden has spoken – said they had discussed boosting the role of multilateral bodies including the Five Eyes and the Quadrilateral Dialogue, as well as the "G7 plus", with Australia invited to attend the summit for the third year running.
The two leaders also spoke about the military coup in Myanmar against democratically-elected leaders, including Aung San Suu Kyi, and agreed on the need to hold those responsible accountable.
While Mr Biden has flagged the reimposition of sanctions, Australia and Japan have been more cautious because of concerns that punishing the generals could push Myanmar towards China.
China's Foreign Ministry on Thursday said the BBC's report on human rights abuses against the Uighurs "has no factual basis at all".
"This is not the first time that the BBC has made some false reports on Xinjiang, and each time we refuted false claim and cleared out the situation. As I just said, some of the interviewees turned out to be actors spreading false information," a Foreign Ministry spokesman said.
But the Morrison government said the claims were disturbing and needed to be investigated.
"Australia has been consistent in raising our significant concerns with the human rights abuses in Xinjiang. These latest reports of systematic torture and abuse of women are deeply disturbing and raise serious questions regarding the treatment of Uighurs and other religious and ethnic minorities in Xinjiang," Senator Payne's spokeswoman said.
RELATED
RELATED
"We consider transparency to be of utmost importance and continue to urge China to allow international observers, including the UN High Commissioner for Human Rights Michelle Bachelet, to be given immediate, meaningful and unfettered access to Xinjiang at the earliest opportunity."
The Australian government's call will likely further anger China, which is targeting billions of dollars in exports. There has been growing international condemnation of human rights abuses and allegations of genocide in Xinjiang.
The BBC's report, released on Wednesday, said women in China's "re-education" camps for Uighurs had been systematically raped, sexually abused and tortured. While there have previously been accounts of sexual abuse in the facilities, the BBC report includes detailed interviews with women who said they were raped.
The report quoted a woman named Tursunay Ziawudun who spent nine months in detention in Xinjiang before fleeing to the United States. She said women were removed from the cells "every night" and raped by one or more masked Chinese men. She said she was tortured and later gang-raped on three occasions, each time by two or three men.
The BBC report also interviewed a Kazakh woman from Xinjiang who said she was forced to strip Uighur women naked and handcuff them, before leaving them alone with Chinese men. It also interviewed an anonymous security guard.
As many as 1 million Uighurs are being held in detention camps, or so-called re-education centres, in Xinjiang, according to the United Nations, human rights groups and special investigations by foreign journalists.
China initially denied the camps, where Muslims are reportedly forced to learn Mandarin and sing nationalist Communist Party songs, existed. However, they later claimed ethnic minorities were voluntarily living in facilities where they received career training.
An estimated 11 million Uighurs – an ethnic Turkic group – live in the region, where they are subject to extensive surveillance